Why Procurement Should Focus on Revenue Generation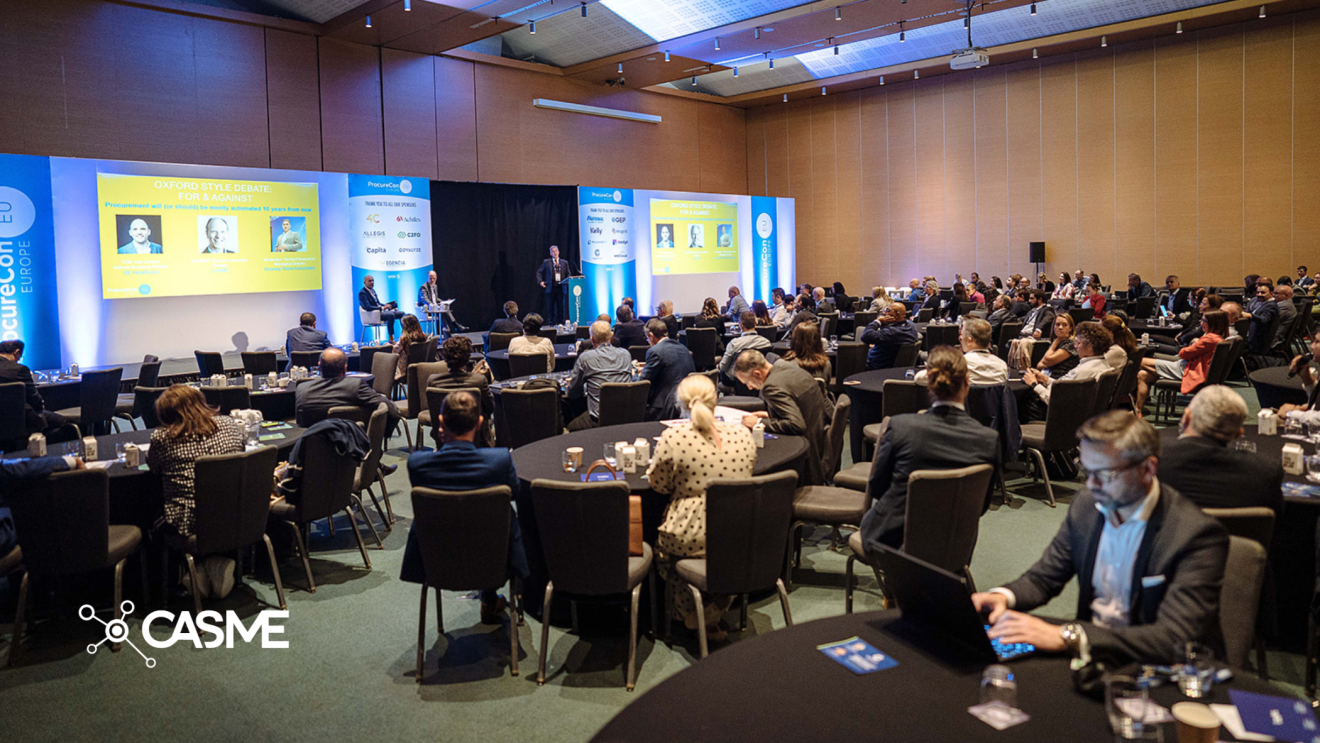 It was great for Team CASME to be back in person at ProcureCon Europe, Barcelona, after three years of pandemic restrictions. Graham Crawshaw, Procurement Content Director, looks at how the procurement function continues to evolve and how it can make an impact, in this special report. 
 
An ideas rethink: focus on revenue generation 
According to Dominique Lebigot, CPO, LVMH Wines & Spirits, the opening speaker, Procurement should rethink its ideas and focus on revenue generation. This sparked plenty of conversations about innovation, generating value creation through partnerships, and using partnerships with suppliers to cause disruption. A bigger focus on listening and providing feedback within the entire procurement and supply chain ecosystem is required. 
Personally, I really liked his comment that Procurement needs to work with the business and 'bring your brain to the table, not just your seat to the table'. A challenge certainly still exists regarding the balance of power between Procurement, suppliers, and stakeholders.  Procurement needs to develop strong relationships to successfully work with the business, and continually weigh up outcomes with growth. Bringing suppliers together is vitally important, and 'supplier day' events can be helpful in supporting the human element. 
 Accelerate digitalisation – focus on the human requirement for data 
Procurement needs clean data as the fuel for making good decisions.  Data is most effective when it helps people; for Procurement this could mean ensuring that suppliers are paid on time, by assessing data and knowing what is happening at each stage of the purchase-to-pay process. 
In his keynote, JonJo Hobbs, Managing Director of Capita Procurement Solutions said that smarter, more collaborative procurement strategies are needed to accommodate today's turbulence. We must take on board geopolitics, the evolution of customer needs, focus on recruitment and retention of employees, and embrace the digital revolution, but at the same time remain relevant.  
Digital transformation is not easy, as Chris Platts, Director of Procurement Operations, SSE plc, highlighted. One of CASME's newest corporate members, Chris shared their journey at SSE, stressing that identifying inefficiencies and making improvements is key to embracing digital procurement innovation.  
Will Procurement be automated 10 years from now?  
This was the main debate question with Eric Dubern, Indirect Sourcing Director, GE Healthcare, but the answer is not a straightforward 'yes'.  
Although automation is to be expected for managing tail spend, P2P, and processes, it is the people in Procurement who are key to the business; because successful strategic category management requires talent and the right skill sets. 
In practice, procurement involves so much more than processing purchase orders. It's about establishing important working relationships with stakeholders and suppliers. Perceptions of Procurement must be elevated above the transactional level, beyond automation, and demonstrate a meaningful use of data to add value to the business. 
'Diversity is being invited to the party. Inclusion is being asked to dance' 
Inspirational case studies were showcased by several brands delivering on their sustainability and ESG goals.  
Paul Harlington, Group Procurement Director at TUI Group, observed that it is actually more relevant to focus on diverse, sustainable and ethical (DSE) objectives. "Diversity is about you and me; inclusion is about us. The perception is real - everyone needs to contribute, both from the top down and from the bottom up," he said.   
Company cultures should celebrate different backgrounds; ensuring there is no bias by including targets, not only for Procurement but across the whole organisation.  
Tackle the challenge of Scope 3 Emissions 
Scope 3 includes downstream emissions which are difficult to control, so several challenges lay ahead. Getting the right supplier in place will be crucial; Procurement and suppliers should agree shared goals, and these objectives need to be locked into a contract so they can be measured.  
"Start with, but don't be limited to, supplier audits," suggested Thomas Roemer, CPO at Covestro, who even recommended that the supplier selection process be based around emissions information. 
Don't Neglect Spend Categories  
Monica Etchells, HR Category Manager, Europe, Sony, reminded us all not to neglect the core spend categories, offering tips on how to get stakeholders on board to support negotiations. She provocatively stated that it's all about the 'F' word, fairness; alongside the importance of collaboration, and the value of using silence as a negotiation tactic. 
Add value to the organisation  
Managing cost pressures and negotiating during times of high inflation and increasing energy costs are hot topics on everyone's agenda.  Conclusions from the ProcureCon panel discussions correspond with those of CASME members - that obtaining the right level of detail, transparency of contracts, and total cost of ownership information, is necessary for Procurement to be suitably informed and not allow suppliers to raise prices without justification. Prices should increase where they need to, but Procurement should be prepared to seek reductions as the markets recover and prices fall.  
As Lisa Egan, Head of Indirect Procurement, Pearson said, "Innovation is a great KPI. How many times have suppliers suggested innovative ideas that have been ignored? Procurement should not be viewed as the function where ideas come to die!" 
The future is social 
Companies can create social value by redirecting part of their regular spend to social enterprises. Social procurement is actively encouraged at Zurich Insurance, where suppliers are given a level playing field and encouragement to support the business by embedding sustainability and diversity into core operations.  
Alexandra Tarmo, Head of Partnerships & Social Procurement, Unilever, made an appeal for an industry-wide commitment to implement social procurement values and create a Living Wage movement.   
Aymon Padilla Hernández, Sourcing and Purchasing Director – Iberia at L'Oréal, shared the journey that his company are taking to implement global initiatives, but have them actioned at a local level. 
Procurement must take a lead, working with like-minded companies to embed social enterprises in supply chains, recognising that it takes time to invest and avoid applying traditional procurement techniques applied to large contracts. You've got to make it easy, so that social procurement can generate additional value for the company and society. 
---
Back to News