The Procurement Interview - CC Chang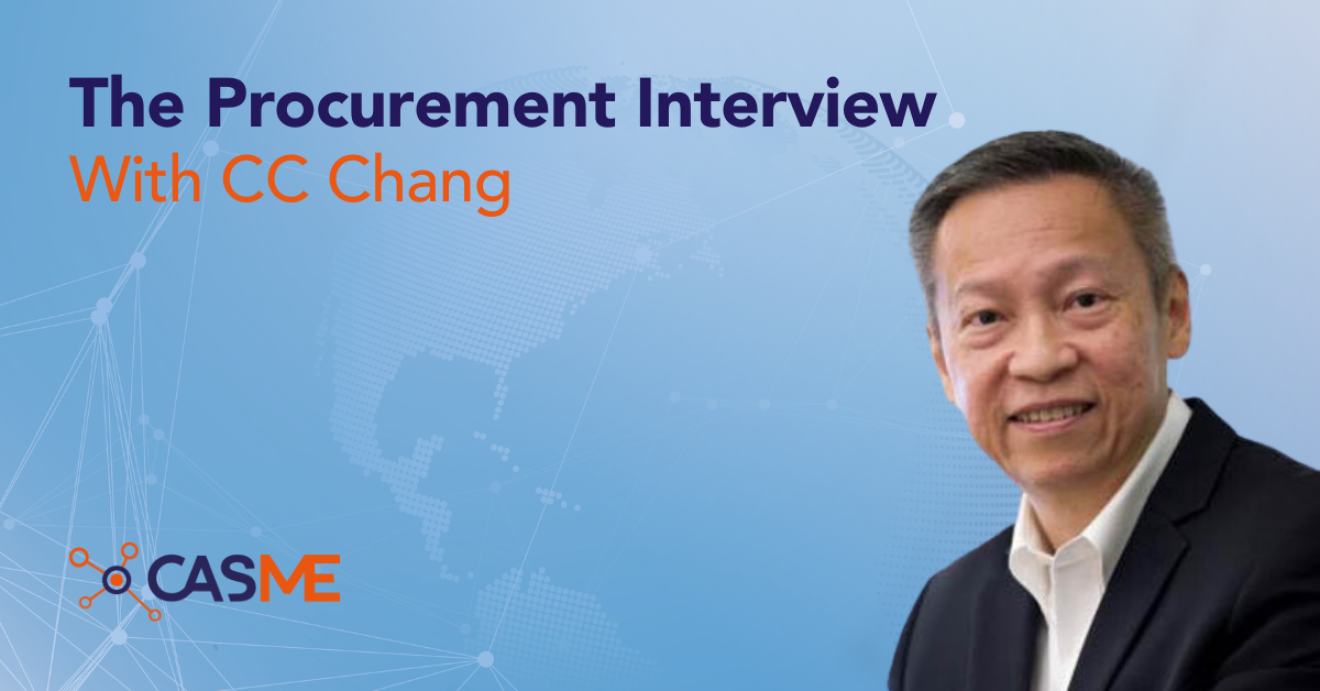 CC Chang has more than 30 years of experience in procurement transformation, change management and talent development in different regions and countries.  During the last 19 years, he has been the Head of Procurement in three multinational companies and is an advocate for embracing diverse opportunities for growth.  CC facilitates CASME events in the Asia-Pacific region.  Here he shares his remarkable career journey, starting as a 'guinea pig' in Procurement and ultimately discovering his passion for it, the challenges along the way that fuelled his adrenaline, and the importance of teamwork for survival and stretching oneself for success.
 
1) How did you get into Procurement?
At the time when I graduated with a degree in Mechanical Engineering, Singapore was in a recession. I applied for many different jobs including those entirely unrelated to my field of expertise, and I ended up taking on a procurement role at a European MNC in the consumer electronics sector. The sector was highly competitive, with short product life cycles and thin profit margins. According to the hiring manager, they were trying to inject technical know-how into the procurement function by hiring engineers to improve the engagement between suppliers and our in-house engineering department, and I was one of the guinea pigs. This venture paid off, and I ended up loving the role in Procurement, bridging the external market and the internal organisation. A nice balance between technical and commercial. I guess my recruitment cohort did not disappoint; the pilot programme became the modus operandi in the way the company recruited talents into the procurement function.
 
2) What has been the biggest challenge of your career?
After 15 years in the consumer electronics sector, I was headhunted by a European building materials company to set up a procurement function in the Asia-Pacific region. I grossly underestimated the challenges that came with it: having to register a company, look for an office space, set up the office infrastructure, hire my own team, develop employee handbooks and company manuals complying with local regulations, while learning the ropes for a new business sector and managing stakeholders across 11 countries in the Asia-Pacific region. It was like building a plane in the sky. Looking back, I often wonder how I survived those initial months. But the opportunity to build an entire organisation and infrastructure from scratch was like birthing a new start-up; it got my adrenalin pumping and was simply exhilarating.
 
3) What has been the most significant success of your career, and why?
Over the course of my 30-year career, two significant moments came to mind.
After setting up the Singapore procurement office in early 2000, I spent another two years creating two best-cost country (BCC) sourcing centres in India and China, respectively. It created a huge competitive advantage for our global business by tapping into the vast supply bases for building materials in these BCC countries. Having the freedom to build new teams from scratch in the two most populous nations was such a privilege and joy.
The other significant moment was when I accepted a non-procurement role outside of Singapore. I became Head of Operations for our factory in Indonesia, with full responsibility for all aspects of operations except for engineering and finance. I was totally out of my comfort zone. It was also a time when Indonesia was caught up in the Asian financial crisis and came under the austerity programme of the IMF. As the nominated Chairman of a network of 12 MNCs, my team worked tirelessly with the management at our industrial park, as well as various government agencies to resolve numerous labour, wage and security issues. Over the next two years, I had to dig deep into my reserves to rise above the challenge of learning about manufacturing technology while managing 2,000 personnel working a 24x7 operation in a volatile environment. Through it all, our operations were not disrupted, and employee morale was kept high, and we even captured the annual sports championship trophy organised by the Industrial Park. Talent wins games, but teamwork wins championships!
Without any doubt, these significant moments could easily have been different if not for the amazing support of my mentors, peers, and subordinates. Instead of nightmares, my dreams became reality.
 
4) How do you think we could get more younger people interested in Procurement?
Back when I started my career in Procurement, a CEO once said to me: "Every company will put their best talent into Sales and Marketing. But we put our underperformers into Procurement and then expect them to negotiate the best deal for our company. How do you square it off?"
That remark has stuck in my head for decades. It reminded me of the importance of inducting the best and brightest into Procurement. Afterall, Procurement plays a critical role in any organisation.
Ultimately, it takes two hands to clap, and both the company and the employees must play a part.
The company shapes the impression people have of Procurement. Whenever the opportunity arose, I would always work with the country leadership secondment programme to ensure that Procurement was one of the critical functions that their top talent must be attached to for a period, as part of their career development plan. The impact was far-reaching. Many of these top talents subsequently joined the C-suite and were our best advocates for Procurement. It also sent a strong message to those contemplating a career in Procurement: it is not a dead-end job. Rather, it opens many opportunities for career development.
 
5) What advice would you give to someone starting a Procurement career?
To those starting a career in Procurement, I would encourage them to master all aspects of procurement by taking up various challenging projects early in your career. Stretch yourselves. And when opportunities present themselves, whether it be overseas assignments or procurement-adjacent roles, or even non-procurement roles, seize them. They could be your strategic inflection points – events that change the trajectory of your life.
You only have one life to live. Might as well enjoy the ride.
---
Back to News