CASME meets Gundula Ullah, CPO at FUNKE Mediengruppe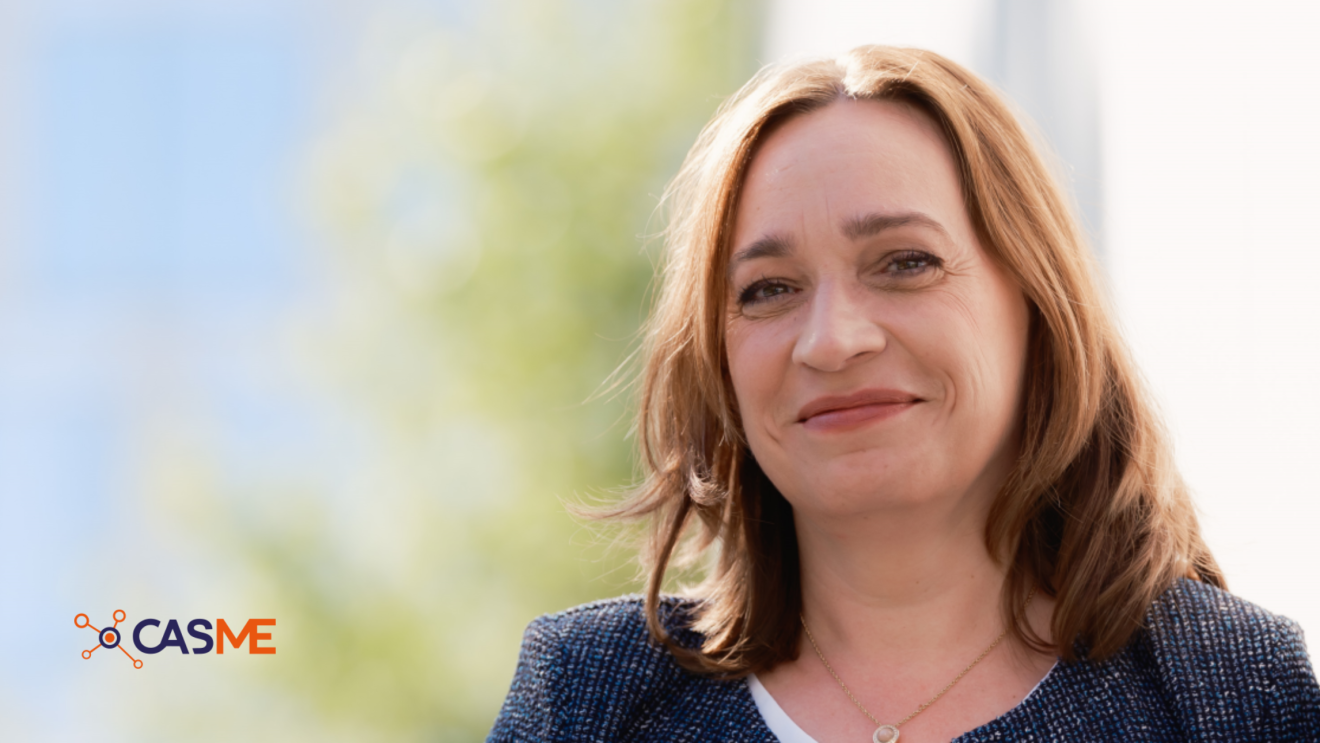 As a ProcureCon media partner, CASME had the great pleasure of interviewing Gundula Ullah, one of the guest speakers at ProcureCon EU 2022.  Clearly passionate about nurturing talent, applying best practice, and achieving sustainability, she discusses how Media is an exciting, diverse and dynamic industry that provides her with new opportunities every day.  Even though the extent of her challenges can be nerve-racking at times, Gundula explains that transforming the procurement function is what makes her role so enjoyable.
'There's never a dull moment'
Gundula began her career at FUNKE Mediengruppe as CPO, when she joined their 20-strong procurement team during 2019.  The company is one of the largest publishing houses in Germany, with 6,000 employees (or media makers as they're known internally), reaching approximately 49 million readers with printed newspapers, lifestyle magazines, and digital media services including radio.  In FUNKE's distribution area, they reach 87% of the people with their service offering.
Since Autumn 2021, Gundula has also taken further responsibility as Head of Sustainability for the whole FUNKE group, implementing the company's sustainability targets.  When defining the targets 6-months ago, she never imagined the interest levels in sustainability to rise so rapidly.  'The topic is huge, and now everybody's talking about having net-zero processes and carbon-neutral products.  It's a lot of work to meet these expectations, but it's good to realise how relevant the topic has become both for our editorial clients, but also for FUNKE's readers and consumers.'
Sometimes it's OK to bend the rules
Within the dynamic environment of a media business, which is driven by constant change, there's a different culture, vibe and rhythm that cannot be compared with working for Procurement in a process-driven production company, according to Gundula.  Her team continually works to find the best procurement solution at the time, and does it in a working culture that's similar to the ever-changing news.  They have to develop new online concepts in the face of declining print media sales and adapt to fluctuating targets that demand a different approach.
It's with this knowledge that Gundula explains she sometimes allows her team to 'bend the procurement guideline, but not break it'.  For example, finding an alternative to satisfying a guideline requirement to obtain three quotes before deciding on an indirect supplier.  'Sometimes it might be necessary to stop in the middle of the sourcing process because suddenly the agency requirements have changed. That's why it's so necessary to have an open dialogue with the business stakeholder.  For direct materials used in production, such as paper, printing plates and inks, however, we always apply a standardised procurement process.'
What's keeping CPOs awake at night?
Firstly, Gundula recognises the value of a good night's sleep, and hopes that CPOs are fully rested to be able tackle the challenges that inflation is currently having on reliable budgeting, planning and forecasting. 
Besides dealing with the impact of inflation, the key challenges that she and other CPOs have faced during the last 12-18 months have been similar:
Securing supply, finding the right suppliers above and beyond the existing ones, and contingency planning for continuous supply of raw materials and services
Issues with the value chain management of the energy crisis, particularly in Europe where prices for electricity and gas are significantly higher than when it was contracted.  Sourcing partners for energy contracts and suitable processes for obtaining energy
Bringing sustainability into processes and products
Becoming more efficient at investing in digitalisation
Finding the right talented people in the team to handle these challenges.
Despite the challenges, Gundula appreciates that the current set of circumstances facing CPOs provides a big opportunity for them to raise the levels of awareness of Procurement; largely by demonstrating that the function positively impacts so many aspects of the business through its many touchpoints within the company.
Survival mode: keeping inflation at bay
As she points out, inflation is influenced by external factors that are not within our personal control.  For Gundula's team, their main concern is the rising energy costs especially in the paper production process and knowing that reducing their paper consumption won't be enough.
'As interconnected industries, reliant on each other, we all have a part to play in slowing the spiral of increasing costs. Procurement needs to challenge the suppliers for cost transparency and full justification for price increases in the supply chain.  We need to be asking questions to understand what is creating the price increase and whether the risk is evenly distributed across the whole value supply chain.'
In a bold statement about the imbalance, Gundula suggests: 'It requires fair ownership of risk, in which all market players need to absorb a certain hit of inflation; perhaps temporarily foregoing their profit margin in order to survive and becoming less focused on business growth in such troubled times.'
During periods of inflation, suppliers of staple goods such as bread can significantly and rapidly increase their prices to unprecedented heights for essential provisions.  As she points out: 'It's much more difficult for the media industry to justify a large price hike to its end consumers, without losing sales revenue to competitive products.  There are alternative media choices, other free sources of journalism and potentially fake news.'  Consumers will question whether or not they are willing to pay for well-researched information and preserve non-biased journalism.  At the end of the day, who is going to entertain and, more importantly, factually report on what's happening in the world?  It won't be the bread makers, that's for sure!
On being a female CPO
What's clear to Gundula is that gender makes no difference to someone's professional ability.  She's passionate about hiring and developing the best talent and resources in the market.  Afterall, procurement services can be provided by a female, male, or even a machine if the process can be automated, as in the case of purchase orders (POs).  She goes on to explain - what allows you to outperform a colleague, or be more suited to a specific task, is how well you can meet or adapt to a stakeholder's specific needs.  Predominantly it's all about creating value by developing a great relationship with the right supplier and being able to influence the stakeholder.
Traditionally a male-dominated function, Procurement has suffered as a low-profile career choice when compared with Sales and Marketing; the profession is often thought to be conservative, bureaucratic, and unexciting or unknown to the younger workforce.  Gundula is happy to contradict this perception, advocating Procurement as an exciting, dynamic and diverse function that touches many aspects of business: 'One that is evolving from an ugly duckling and developing into being a beautiful swan that is now being recognised by the Board'.
As a leader, Gundula believes that her responsibility is to bring a new spirit (and a different way of leading Procurement) to create extra value and a renewed sense of energy that will help to raise the profile of Procurement.  In fact, many of her newest recruits have actively sought out a career in Procurement, telling her that 'I chose the role because you're a woman'.
Importantly, she endeavours to show empathy, understanding and support, and encourages an open, feedback-oriented environment and professional development within her team. 
After a period of transformation under the reins of Gundula, the male-to-female ratio of FUNKE's procurement team has changed from comprising 20% women to about 50:50, which matches the norm for a media company.  Interestingly, this wasn't a conscious decision – simply one in which the best talent wins the job – 'For me, it's finding the best talent and developing the best talent – at the time, that just happened to be female.'
Her tips for the procurement novice
'Deal with the company's money as if it were your own,' is Gundula's advice to anyone starting a career in Procurement.  'With monetary responsibility for millions, don't just give it away as if it doesn't concern you.  When you go into negotiations, always be better prepared than your counterpart, and align your arguments with facts and figures.  It may take a lot of time and energy, especially in our fast-paced environment to understand the contracts and obtain information regarding the suppliers, but if you have it, you have a good overview and knowledge that you can use to negotiate with your common sense.' 
She recommends listening to the wants, needs and ideas of the business stakeholders.  'Remember, especially in the indirect space, these are not carved in stone, and they may not be matched by what the supply market can offer.  It's more important to focus on a win-win outcome with the right supplier and to shape a sustainable value package.'
ProcureCon EU takes place from 26-29 September in Barcelona. Procurement professionals can gain a 10% discount with the CASME media partner code PCEU10CAS.  Register here. 
---
Back to News