2022: What's next for Procurement?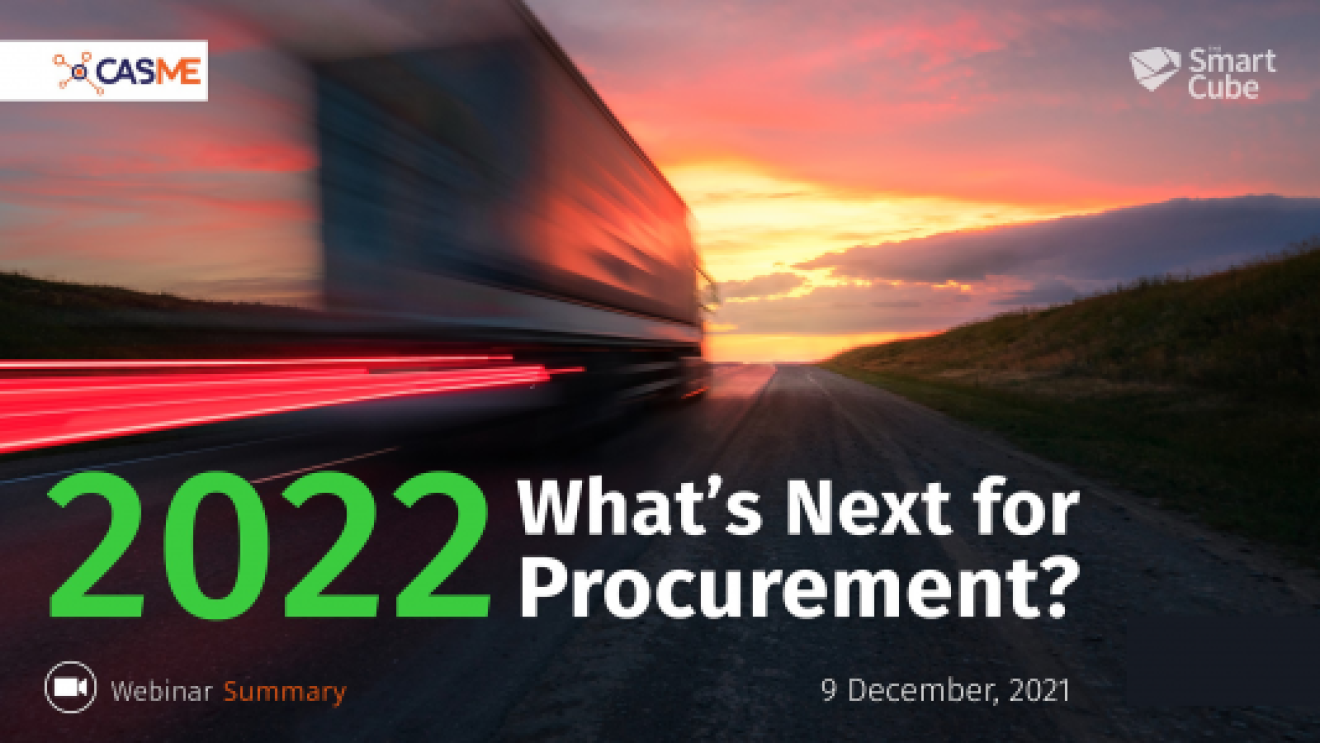 Looking back at another turbulent year of the continuing pandemic, and incidents such as the Suez Canal blockage, it's clear that Procurement continued to play a pivotal role by mitigating risk, managing supply chains and moving their organisations back on to the front foot of business during 2021 – which is a huge credit to the industry.
Although further uncertainty lies ahead, the dawn of 2022 presented an opportunity to gather with an expert panel on 9 December 2021 to reflect on what's been learnt and to better understand the next steps moving forward.
Read on to discover key lessons, together with pertinent advice, from Len DeCandia from Johnson & Johnson, Omer Abdullah from The Smart Cube, and Graham Crawshaw from CASME (representing the views of a global membership of corporate Procurement).  The panel was joined by a virtual audience of 218 procurement professionals who participated in live benchmarking polls; the results of which are illustrated below. If you missed the webinar head to our YouTube channel where you can view the recording. 
 
2021: A year of reinforcement
In many ways, the immediate crisis posed by the 2020 pandemic, together with the way in which we now live and work, has enabled Procurement to demonstrate its ability to act swiftly and decisively in the face of demand outpacing supply, new legislation, inflation, and suppliers de-risking their own activities.
The overriding challenge during 2021, as highlighted by the results of the first live audience poll, has been to ensure continuity of supply at multiple levels; requiring businesses to be 'future-ready' and seamlessly connected digitally and globally for continuity, both internally, and externally with critical suppliers.  Even at the outset, supply issues were the primary risk to growth and keeping businesses running.  The extent to which organisations were future-ready prior to CV-19, was indeed revealed during the pandemic.
 
Live Poll: What have been the major challenges facing your procurement function during the last 12 months?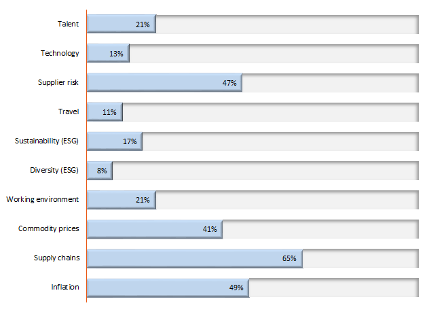 A large proportion of businesses have struggled financially during 2021.  Growth in demand for goods has adversely affected commodity prices, leading to inflation and supplier price rises; the likes of which have never been experienced or managed by the younger generation of procurement professionals. 
In 2020, Procurement demonstrated its capability of adapting to a new strategy, living with immense uncertainty and meeting this with a creativity and resilience rarely called on before.  Clearly the momentum was required to be maintained throughout 2021, and Procurement needed to build on the successes achieved during the previous 12 months.  As such, innovation has been acknowledged by procurement organisations as the way forward; linking in with diversity, sustainability and environmental, social, governance (ESG) - all factors that contribute towards business improvement.
Innovation has accelerated during the pandemic.  Indeed, for those organisations with digital integration and technology, the processes and systems existing throughout the supply chain have enabled connectivity with speed and with scale, demonstrating that business supply chains are stronger together and allowing best practice and scalable opportunities to be shared worldwide.
Despite the immediate crisis-related business threats, the clock continues to tick down through a decade of action to deliver sustainable development goals by 2030.  Procurement is in a prime position to push the boundaries with stakeholders and gain innovative collaboration with suppliers; helping the function to boost recognition and further secure that important seat at the table.
Engage in positive social impact procurement:
By empathising with people's experience, whether consumer, employer or supplier, to introduce innovative ideas/products
Recognise that ESG has a broader scope beyond sustainability:
Procurement has an opportunity to play an important leadership role, by tapping into  stakeholders interests whilst aligning with governmental requirements
Prioritise being nimble and prepare for the unexpected:
Focus on key spend areas, assess the market, plan as far ahead as possible (shift from just-in-time just-in-case), write contingency plans, and leave flexibility to adapt to changing economic environments.
 
2022: A year of purposeful transformation
One of the immediate challenges expected for 2022 is inflation, as highlighted by the second virtual audience in poll.  Procurement will need to find out whether the goods/services being bought will continue to be available at a price that is affordable.  The reality is that commodity prices fluctuate, whereas labour rates do not.  Once someone is paid a given wage, this does not usually reduce.  Those who buy and work through issues that are directly associated with labour or high value-added items, need to recognise that inflation is here for the medium to long term.
Going into 2022 this inflationary environment is not likely to be transitory, but it will be more manageable.  By having market knowledge, understanding raw material price trends and labour availability, and breaking down contract pricing into component parts to realise what is influencing prices, Procurement can ensure that suppliers are not taking advantage of the inflationary environment by increasing profit margins.  In addition, demand is expected to level-off, and competitive marketplaces will arise in which new entrants will be willing to provide fairer rates.
 
Live Poll: Looking forward to 2022, what will be the major challenges facing your procurement function?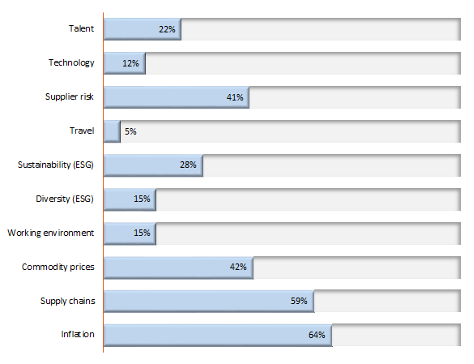 Evident throughout the pandemic has been the power of digital technology, which has expanded a procurement team's ability to have an impact across the entire organisation; enabling Procurement to better connect with other functions such as Research and Development, Marketing and Sales.  For the many companies in which Procurement is still being asked to focus on delivering cost savings, new technologies and innovation are key to transforming the value that suppliers can bring to the organisation beyond traditional cost management.
Likewise, ESG considerations are now becoming critical components of an organisation's growth.  Consumers are becoming much more sophisticated in their demands - they are more interested in doing business with corporations that take care of the world and its people – and they are prepared to pay a premium for it.  Procurement can be the internal function that places a company firmly on a path to an ethical and regenerative future, by choosing how to respond to the new mindset of consumers, helping stakeholders to invest in change and ensuring that money, time and energy is directed to the right places for long-term positive impact. 
Talented individuals will also want to work for organisations that are purposeful.  People recognise that this is a one-shot-deal, it's not a dress rehearsal.  From a career perspective, it is important for employees to invest their time, talent and energies wisely.  Organisations that are purposeful will be recognised by shareholders as building a trust mark with consumers, and along with highly-valued talented employees, are much more likely to be profitable.
Opportunities
Looking forward, Procurement has a great opportunity to be an amazing enabler.  Top tips include:
Focus on obtaining the best value and added value, e.g., sustainability, rather than the lowest cost
Create and facilitate the process of supplier selection for the business owners and business partners, rather than making the actual decision
Translate and apply supplier relationship management (SRM) practices across the entire organisation to create a competitive advantage.
Advice for CPOs and Senior Procurement:
Promote SRM practices – highlight the value of shaping the supplier base to meet the business needs of today and tomorrow
Invest in risk management technology to reduce the issue for Procurement and strengthen business continuity
Reinforce the strategy of adding value to the business such as risk management, sustainability and social values.  Emphasise the benefits and make Procurement an appealing destination.
Use data as currency to get a seat at the table with business stakeholders/partners – create a level of engagement by bring internal and external insights that no one else is aware of, that allow them to re-think their existing approach and future strategies
Have the courage to think broadly across the organisation and take strategic decisions - be a voice for your organisation.
Advice for young talent in Procurement: 
Broaden your remit, think strategically.  Be conscious of aligning with business stakeholders' objectives.  Don't be afraid to ask tough/silly questions – be brave and make 100 mistakes to do one thing right
Use data as currency to get a seat at the table with business stakeholders/partners – create a level of engagement by bring internal and external insights that no one else is aware of, that allow them to re-think their existing approach and future strategies
Have the courage to think broadly across the organisation and take strategic decisions - be a voice for your organisation.
This era is a time of great transformation, and a critical time for Procurement – it's on a journey from a single lane road to a superhighway.  By focusing on creating opportunities for adding value, innovation and ESG practices, it has the power to unleash a positive influence across the entire organisation. 
It's now time for Procurement to be the beating heart of making those changes a reality.
---
Back to News